Time to pay it forward.
This recipe was share with my by my dear friend and health guru Tanya Jarrett. I was looking for a quick and easy recipe for some hearty and healthy muffins and she texted me this recipe. Within 45 mins I was sitting down eating the best muffins I had ever tasted. So, thank you Tanya, I'm going to share the love and now and pass it along cause it simply to good not too.
Prep time: 10 mins
Cook time: 30 mins
Total time: 40 mins
Makes: 12 servings
Ingredients:
1 cup of Almond flour
1 cup Brown rice flour
1/2 cup Gluten free oats
2 tsp baking soda
2 tsp cinnamon
1 tsp ground ginger
1/2 cup shredded unsweetened coconut
1/2 cup sunflower seeds
2 shredded carrots
1 shredded apple
Flax egg (enough for three eggs. 1 egg = 1 tbsp ground flax, 3 tbsp water, let it sit to thicken)
1/2 cup of honey, maple syrup or agave
1 tsp vanilla
1/2 cup of unsweetened apple sauce
1/2 cup melted coconut oil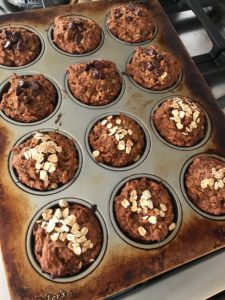 Directions:
Mix together flax egg and set aside to thicken
Mix together all the dry ingredients
Shred the apple and carrots and set aside
Melt the coconut oil
Mix together all the wet ingredients
Mix the wet and dry ingredients and add the apples and carrots
Scoop into muffin tins and bake at 350 for 30 mins. on middle rack
You can top them with a sprinkle of oats or your choice of chocolate chips
All oven differ so check your muffin to make sure they aren't burning and are cooked through with a toothpick.
Enjoy they are hearty and so tasty!