OH MY…where do I even start! The little mini pumpkin pies are heaven in your mouth. If you like pumpkin pie but don't love all the dairy, sugar and gluten that goes along with one then you will likely be in love with this super simple recipe. It is a little bit more work than most of my recipes but its so worth every second of prep because they are so goooood!!!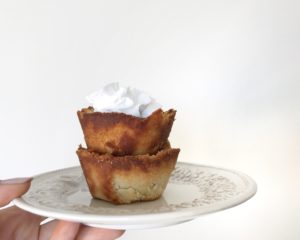 Prep time: 45 mins
Cook time: 15 mins
Total time: 55 mins
Servings:  10 mini pies
Ingredients:
Crust 
4.5 cups of Almond flour
6 Tablespoons of agave
3 Tablespoons of water
Filling 
2 cups of pumpkin puree
1 cup mashed sweet potato
1/2 cup agave
2 teaspoons pumpkin spice
Prep Tips:
Have your potato already cooked. I normally make an extra one in the slow cooker for dinner the night before. .
cut strips of parchment paper to line the muffin tin so you can get the pies our without to much difficulty.
Directions:
In a mixer blend together all the ingredients for the filling.
In a medium sized bowl mix the Almond Flour, agave and water and stir well. You can grab a bit of the dough and make sure it sticks together when you squeeze it.
Spray the muffin tin with coconut oil spray and hold down a parchment strip as you place some dough in the cup.
knead the dough with your finger to make the crust cup.
Repeat for the next 9 cups
Fill the cups with the filling and bake at 375 for 15 mins or until edges of the crust is golden.
Let chill for a few hours or overnight in the fridge.
Top with fresh coconut milk whipped cream or shredded coconut flakes and ENJOY!