What's that you say, egg free quiche HELLLLOOOO!!!!!
Yup that's right!! This recipe is inpired from my amazing health coach Tanya Jarrett, who is working with me through the 28 Day Ultimate Whole Foods Refresh program. It was something she had pinned to our group Pintrest recipe board and with a few tweaks it was something I could make and enjoy myself – even with all my silly restrictions.
So here you have it, enjoy! PS they don't taste that great left over so make sure your hungry and eat them all up 😉
Prep time: 10 mins
Cook time: 30 mins
Total time: 40 mins
Makes: 14
Ingredients:
3 cups of assorted veggies
1/2 sweet potato
2 tablespoons of extra virgin olive oil
2 cups chickpea flour (garbanzo bean flour)
1/4 cup nutritional yeast
1 teaspoon baking powder
1 teaspoon sea salt
dash of black pepper
2 cups of water
Vegan cheese (optional)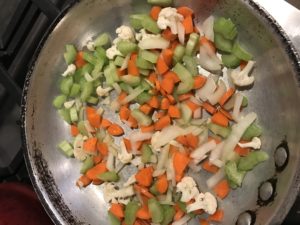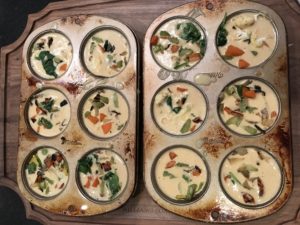 Directions:
Thinly slice the sweet potato in little circles and place them on a baking sheet. Drizzle with EVOO and sea salt. Bake them at  at 400 for 8 mins, flip at 4 mins.
While the potatoes are cooking chop and sautee your veggies on the stove stop.
In a bowl combine chickpea flour, nutritional yeast, baking powder and salt. Mix well.
Add in the water and mix well.
Spray or brush a standard muffin tin with oil to prevent sticking.
Remove the potatoes from the oven and place them in the bottom of the muffin tin to act as the crust.
Pour the chickpea batter over the potato until all the cups are full and batter is gone.
add the veggies to the little cups
Bake for 30 mins or until they edges are golden brown and toothpick comes out of the centre clean.
As an added bonus we added some vegan cheese to the tops of some the last 5-8 min while cooking to melt on top. It was amazing.
We also put a little bit of vegan soy free butter on them as well. Definitely recommend!
ENJOY!!!!