When I went cold turkey and cut out all dairy, soy, gluten, sugar etc etc. I immediately cleaned out my pantry and gave away all my baking stuff. I knew if I had to stare at it or even if I made special items for my kids I wouldn't have the will power to not dive in myself. So a massive box went to friends and family and I headed to Whole Foods to stock up on all the new things I would need to get adjusted too. Its made me incredibly creative with all meals, and baking and from that has come these super delicious Coconut Macaroon Cookies. They were a crowd pleaser for the whole fam and the a perfect replacement for the high sugar and white flour cookies we used to enjoy. Lets just say we don't miss them.
Enjoy…and make extras cause they don't last long enough haha.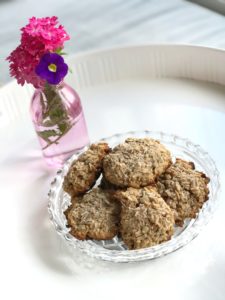 Prep time: 7 mins
Cook time: 15 mins
Total time: 22 mins
Servings: 13-15 cookies
Ingredients:
1/2 cup of Gluten free oats
1/2 cup unsalted sunflower seeds
1/2 cup brown rice flour
1/4 cup brown rice syrup
1/4 cup organic agave (pinch of stevia for sugar free)
1.5 cups of shredded unsweetened coconut
1 tsp vanilla
1 tsp cinnamon
1 Tbsp melted coconut oil
Directions:
Mix all wet ingredients in one bowl and all the wet in another.
Make a well and pour wet into the dry
Stir well and if it seems too runny add a couple Tablespoons more of brown rice flour
roll into little balls and place on parchment lines baking sheet.
Bake for 15 mins on middle rack at  300°F
Enjoy they are super delish!