If anyone knows me well you know that power pancakes are a weekly ritual in our house. Our power pancakes we used to make had eggs, oats, bananas and our favorite vanilla protein powder which is soy based.  Ok, awesome, I can't have eggs, bananas or soy – how the heck was I going to survive making my kids one of their favorite breakfasts and not be able to eat some..HEARTBREAK!
Of course much like crepe story I was determined to find a tasty soy free, gluten free, dairy free, banana free pancake, that was also EASY TO MAKE! Key there is easy, if I was going to have to make two batches then I wanted it to be quick and easy.
So here you have it, the leg work is done and now you can enjoy, some tasty pancakes.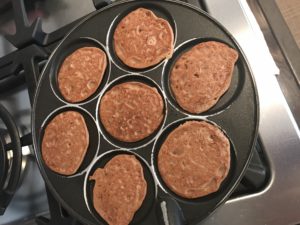 Prep time: 10 mins
Cook time: 5 mins
Total time: 15mins
Servings: 10 small pancakes
Ingredients:
1  cup brown rice flour
1 tablespoon ground flaxseed
2 teaspoons of baking powder
2 teaspoons of ground cinnamon
1/4 teaspoon of sea salt
2 tablespoons of agave (or honey or maple syrup, and a pinch of stevia if you want sugar free)
1 teaspoon vanilla
1/4 cup of unsweetened apple sauce
1 cup of almond milk (or your choice of non dairy milk)
Directions:
In a blender mix in all the wet ingredients. Almond milk, applesauce, vanilla, agave, and blend well.
Then add in all your dry ingredients, flour, flax, and spices.
Let sit for 3-5 mins to let your flax absorb.
Use a coconut oil spray to your pan and voila!!
TIP: wait until your pancakes have little bubbles before trying to flip, and cook on a medium heat so they don't burn but so you can cook then a little bit longer.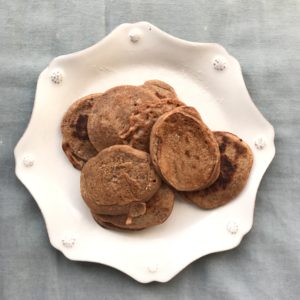 They are dense and delicious and I love them with vegan soy free butter, berries, shredded unsweetened coconut and agave. Although, I had a slight cheat last week when I made them. I found a nut free soy free dairy chocolate spread, think nutella without the crap, and although I'm not allowed raw coaco I used the spread on my pancakes and it was heaven in my mouth. Worth trying for sure!!!
Bonne Appetite!