I'm a sucker for soups and chili in the colder months and let me tell you – almost all my old recipe involve peppers and tomatoes. Until now!
Let me introduce you to the best chili you will ever taste, minus the inflammatory veggies, tomatoes and peppers!
Prep time: 5-7 mins
Cook time: 30 mins
Total time: 35-40 mins
Servings: 6 servings
Ingredients:
1 lbs of lean ground beef
2 Tablespoons of olive oil
2 teaspoons of crushed garlic (3-4 cloves)
2 carrots
2 small white onions
1-2 sticks of celery
4 cups of beef broth (very important)
1 can of black beans
1 handful of green beans
2 Tablespoons of agave (a pinch of stevia if you want sugar free option)
4-5 Tablespoons of chili powder (start with 4 and if you want it spicier then add the 5th)
1/2 red lentils
1 teaspoon turmeric
1 lime fully squeezed
Himalayan pink salt and pepper as per your preference.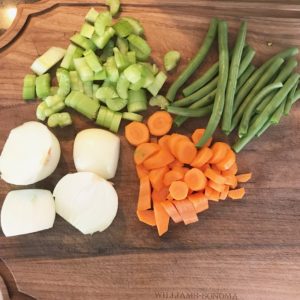 Directions:
Add crushed garlic and chopped onion to the olive oil in a pot and simmer until onions are translucent.
Add beef and stir well.
Once the beef is partially cooked add the carrots, the celery and the green beans
Cook for about 5 minutes
Add the beef broth, and lentils. Cook for another 5-7 mins
Add in the can of bean, and all the spices and stir well.
Finish off by adding the agave and the juice from the lime.
Simmer on low until full cooked.
Enjoy with some fresh avocado!