There once was a day I thought I would die without eating bread, I mean come on, how do you have a sandwich without bread? How would I make grilled cheese, garlic bread or have a simple piece of toast for breaksfast?? I seriously check every single gluten free bread and read the packages only to realize that almost every single one has something I can't eat. Soy, eggs, vingear…F*#k
It wasn't until a dear friend introduced to My New Roots and her AH-MAZING recipe for life changing bread that I hear angels singing in my ears. I'm sharing this recipe with you because it WILL change your life. It has changed mine in so many ways. My digestion has improved, my sandwiches are yummier than ever and toast….oh gosh this makes the best toast.
before I share the recipe though I want to share with you 5 things I love about this bread.
It makes the best toast! Seedy, crunchy, and add some sugar free jam and almond butter and its the bomb!
Its soooooo easy to make, trust me! I make two loaves and freeze them.
It makes for the best poops – yes I said it. The Physillum husk is just magical.
No dairy, sugar, gluten, soy or any other junk that will bloat you.
You can change it up. Sometimes I add a bit of pumpkin seeds, walnuts, and I use agave instead of maple syrup cause I can't have maple syrup. You can adjust it (without screwing up the measurements of course) to your liking and it works every time. Trust me I've tried it.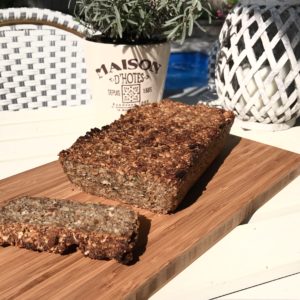 Cook time: 60 mins
Total time: 1hr 10 mins
Servings: 1 loaf or 13 slices
Ingredients:
1 cup / 135g sunflower seeds
½ cup / 90g flax seeds
½ cup / 65g hazelnuts or almonds
1 ½ cups / 145g rolled oats
2 Tbsp. chia seeds
4 Tbsp. psyllium seed husks (3 Tbsp. if using psyllium husk powder)
1 tsp. fine grain sea salt (add ½ tsp. if using coarse salt)
1 Tbsp. maple syrup, I use agave (for sugar-free diets, use a pinch of stevia)
3 Tbsp. melted coconut oil or ghee
1 ½ cups / 350ml water
TIP: I make a triple batch and divide it into 2 loaf pans. It makes the pieces of the loaf a bit bigger (not thicker, but wider)
Directions:
Because I make a triple batch every time, I mix all the dry ingredients into a large pot.
I think whisk the agave, oil and water in a small sauce pan until the coconut oil is melted.
Mix the wet into the dry and stir well. I often take off my rings, wash my hand and kneed it well with my hands.
Line your loaf pans with parchment paper or use flexible silicon pans.
Fill the pan with the mixture and pack it in tightly and smooth the top with the back of a spoon.
Let it sit for dough to set for a least 2 hours, or all day or overnight. I use the overnight method so I can pop it in first thing in the am for fresh bread.
Preheat over at 350°F / 175°C.
Place loaf pan in the middle rack and bake for 20 mins.
remove the loaf pan and remove the bread from pan, place it back on to the middle rack, upside down and let bake for another 30-40 mins.
The bread is done when it sounds hallow when you tap it.
Last but not least and the hardest part, Let it cool completely! The longer you let it cool the easier it is to cut without it crumbling to pieces.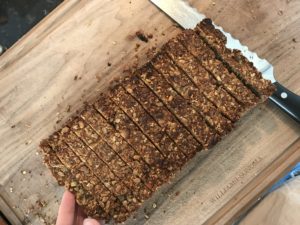 I make the two loaves for a reason. One it never lasts long in our house, and also because I freeze one so it last longer and we use that loaf for toast. It will last about 5-7 days in an airtight container. Don't forget to slice before freezing!
I hope you enjoy this recipe as much as we have in our house. Because of this bread I have no problems eliminating bread from my diet. It helps so much to heal and eliminates bloating and inflammation. I also encourage you to go look at My New Roots website, she has sooo many incredible recipes and ideas. She's genius.