My best friend was in Croatia for my birthday this year which meant lucky me got a special little something brought back. You know your bestie knows you well when she brings you back an incredible bottle of extra virgin olive oil from Europe. Thank you Yasmin, I think it seriously made this dish so delish, at least it is what inspired me to make it.
Lunches can be hard and annoying and I find that is the easiest meal of the day to be lazy with. Your in the groove of your day and then bam your starving and have to stop. Most cases prepping a whole veggie platter or making something more complicated isn't an option when your hangry. So the other day I grabbed a can of lentils and some left over quinoa and whipped up this little power bowl in less than 8 minutes. Theres something about it that is so fresh and fulfilling….and its not just the easy factor.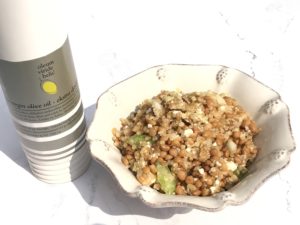 Prep time: 10 mins
Cook time: 0 mins
Total time: 10 mins
Servings: 4
Ingredients:
1 can of lentils
1.5 cups of cold left over quinoa (I'm sure hot is delish but not necessary)
1 celery stick chopped
1 avocado diced in little cubes
1 small white onion
1 clove of crushed garlic
2 tablespoons of Olive Oil
Crumbled feta
Grated fresh ginger
Himalayan pink sea salt
Directions:
Drain your lentils from the can and add to a medium size bowl.
Mix in your cold (or hot) quinoa.
Add 1 tablespoon of olive oil, grated ginger and garlic and stir well.
Dice your onion, celery and avocado and add to the bowl. Mix well.
Top with finely grated pink sea salt and crumbles feta.
ENJOY!