Ok peeps, this recipe I'm about to share will makes your friends ohhhh and awe from beginning to end of eating it. Literally my hubby took one bite and was like "babe this is the best meal you have ever made" hahaha
It super duper easy, super duper flavourful and super duper healthy. What more could you ask for?
The inspiration came from Pintrest but of course I had to modify and add my own touches. So here you have my version and what I decided to call HOLY SMOKES!!! Oh I called it holy smokes because I think we both said it at least five time while we were eating it hahaha
Prep time: 10 mins
Cook time: 45 mins
Total time: 55 mins
Makes: 2-3 servings (depending on if you go back for seconds)
Ingredients:
3tbsp smoked paprika
1.5 teaspoons of sea salt
3/4 teaspoon black pepper
1/2 teaspoon garlic powder
1.4 teaspoon dried oregano
8 Chicken thighs (we use boneless)
1 medium white onion
1 can of chickpeas
2 Tbsp olive oil
1 Tbsp lemon juice
1/4 cup chopped cilantro (optional)
1 Carrot
1 handful of kale
1 celery stalk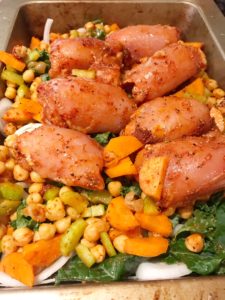 Directions:
Stir together all the spices in a large bowl.
Add the chicken thighs and toss around until they are full coated
Let them sit in the spices, while you thinly slice the onions, chop the carrot and the celery
Add the sliced onions to the pan and add 1 Tbsp of olive oil (save the other one for the other mix)
Drain the can of chickpeas and add them and the carrots and celery, and chopped kale to the bowl with the chicken thighs and spices.
Add the extra 1 Tbsp of olive oil to help the spices cover all the contents in the bowl.
Pour the chicken, chickpeas and veg over the bed of onions
Arrange the chicken thigh so they aren't covered but resting on top of everything in the pan.
Squeeze the lemon over top of the pan
Pop in the oven at 350 for 45 mins
Sprinkle with chopped cilantro as a garnish
Let cool for 3-5 mins and enjoy!