There is no easy or short name for these little nuggets of deliciousness. If you love chocolate chip cookies, and the dough you will LOVE this little gem of a recipe. Again, its super healthy and full of protein. I couldn't believe the secret ingredient that makes these so good. CHICKPEAS!!! Who would have ever known chickpeas could be used to make cookie dough?
The other thing I loved so much about this recipe is that is was SOOOOO EASY. People always complain that being healthy is so much work. I can confidently say that these were one of the easiest cookie recipes I've ever made and WAY easier than regular chocolate chip cookies too.
I hope you loves them as much as we did! Oh ya and the kids… 100% approved, Coco ate 4 and reminded me with each one she doesn't like chickpeas hahahaha WIN WIN!!!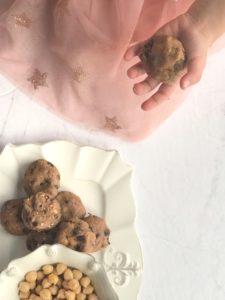 Prep time: 5 mins
Cook time: 10 mins
Total time: 15 mins
Makes: 15 1″ cookies
Ingredients:
1 1/4 cup of chickpeas, drained, rinsed and patted dry
2 teaspoons of vanilla extract
1/2 cup of almond butter (don't use the creamy one, just the regular one its more dry)
1/4 cup agave
1 teaspoon baking powder
a pinch of salt
1/2 cup of vegan and dairy free chocolate chips
Directions:
Combine all ingredients (except chocolate chips) into a blender or food processor
Blend until there are no clumps
add chocolate chips
Mix together with wet hands
Roll into little 1″ balls and set on a baking sheet covered with parchment paper.
Bake for 10 mins on middle rack at 350
NOTE: they do not rise like regular cookies, if you want them to be a bit flatter than a ball, push them down gently to flatten before baking.